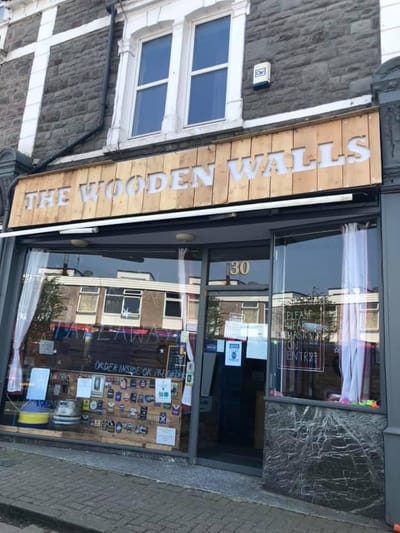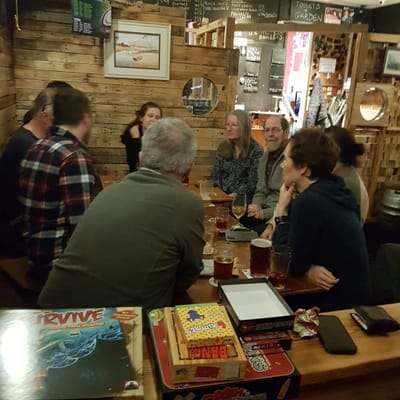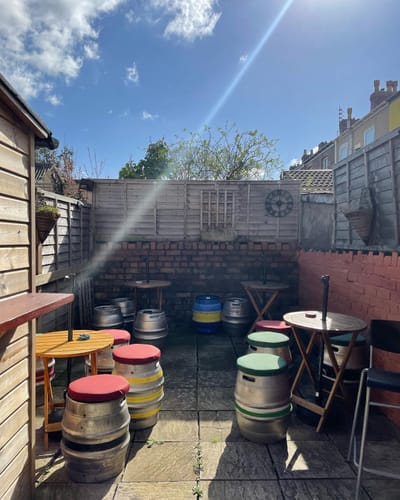 We opened on the 29th May 2018 after Dave (the owner) sold his share in Snuffy Jacks Ale House and found suitable premises just up the road in Staple Hill.

Dave has a background with the Royal Navy (you will see it has a Maritime theme when you arrive) having served for 4 years as a Mine Warfare Operative.

6 months after we opened, we decided to add a small beer garden that is a real sun trap at times.

We serve quality Cask, Keg Ales and real Ciders alongside a selection of fine Wines and Gin. We also do a takeaway service in 2 & 4 pint servings.

We are also Dog Friendly.



What is a Micropub
Well, what IS a micropub? Well, it's not microbrewery or a brewpub. There's no brewing or filling beer barrels done on the premises. Some consider it to be a completely different – and a welcome – change from the longstanding regular public-house most of us used to know and love; some others think it's just a fancy name for a small pub.
Why don't you call in and decide for yourself?
The Micropub Association describes our type of outlet as "a small freehouse which listens to its customers, mainly serves cask ales, promotes conversation, shuns all forms of electronic entertainment and dabbles in traditional pub snacks". That's as good a description of the type of place we were after.

All in the name (The Wooden Walls Of Olde England)

When Britain on her sea-girt shore,
Her white-rob'd Druids erst address'd;
What Aid (she cry'd) shall I implore,
What best defense, by numbers press'd?
"Tho' hostile nations round thee rise,
(The mystic Oracles reply'd)
And view thine isle with envious eyes,
Their threats defy, their rage deride,
Nor fear Invasions from your adverse Gauls:
Britain's best bulwarks are her WOODEN WALLS.

"Thine Oaks descending to the main,
With floating forts shall stem the tides,
Asserting Britain's wat'ry reign
Where'er her thundering Navy rides:
Nor less to peaceful arts inclin'd,
Where Commerce opens all her stores,
In social bands will league mankind,
And join the sea-divided shores:
Spread then thy sails where Naval Glory calls:
Britain's best bulwarks are her WOODEN WALLS.

Hail, happy isle! what tho' the vales
No vine-impurpled tribute yield,
Nor fann'd with odour-breathing gales,
Nor crops spontaneous glad the field:
Yet Liberty rewards the toil
Of Industry, to labour prone,
Who jocund ploughs the grateful soil,
And reaps the harvest she has sown.
While other realms tyrannic sway inthralls,
Britain's best bulwarks are her WOODEN WALLS."

Thus spake the bearded Seers of yore,
In visions wrapt of Britain's fame
Ere yet Iberia felt her pow'r,
Or Gallia trembled at her name.
O! that my muse inspir'd could sing
The praises to her Heroes due,
Would heaven-born genius imp her wing,
Pleas'd, she'd the glorious theme pursue!
Then should my verse record great GEORGE'S reign,
Who stretch'd from Pole to Pole his wide domain.

Morning Chronicle and London Advertiser (25 June 1773).
Henry Green.